2016 Spring Directors Meeting
Another very successful spring directors' meeting took place in Burlington on Saturday April 23. This meeting takes place once per year giving the OLA executive and directors from the county associations the opportunity to meet face to face to discuss the business of the organization. Following our financial reports, President Tom Black provided updates on:
Bill 100 the trails act which looks like it will pass despite our best efforts to have it withdrawn
Gilmor versus the Nottawasaga Valley Conservation Authority decision which is headed to the Ontario court of appeal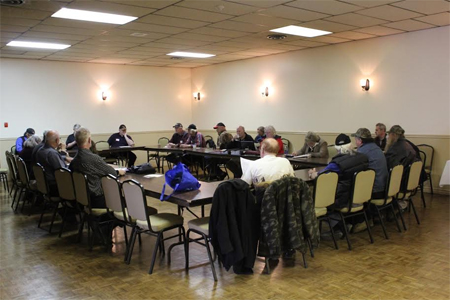 Directors were encouraged to take advantage of the OLA'S website and Facebook page to advertise meetings in their areas.
The date chosen for the next AGM is October 22nd in Tyrone.
The morning session was followed by a public meeting with speakers Don Johnson on Species at Risk, Liz Marshall on property rights, Tom Black on the OLA's intention to seek intervenor status in the Gilmor appeal, Dave Hemmingway provided an update on wind turbine construction liens and property assessments, and Jeff Bogaerts who spoke about conservation authorities and investigative negligence. More than 70 people attended the public meeting and most stayed for the excellent roast beef dinner which followed.
Special thanks to Don Johnson and the Hamilton Halton Landowners Association for hosting the meeting.