Petitions and Other Actions against the Gun Ban Garner Huge Support by Shirley Dolan
Did you know that two of the parliamentary petitions against Trudeau's May 1 gun ban closed with the highest number of signatures in Canadian history? That's right! Canadians are opposing the gun ban in records numbers.
A petition by MP Micelle Rempel Garner closed on September 2, 2020 with 230,905 signatures, the highest in Canadian history. https://petitions.ourcommons.ca/en/Petition/Details?Petition=e-2574
Earlier in the year, a petition by MP Glen Motz closed with 175,310 signatures, the second highest in Canadian history. This petition was presented in the House of Commons on May 6, 2020. You can read the governments response here https://petitions.ourcommons.ca/en/Petition/Details?Petition=e-2341.
Now that the House is sitting again, we look forward to MP Rempel Garner officially presenting her petition in Parliament.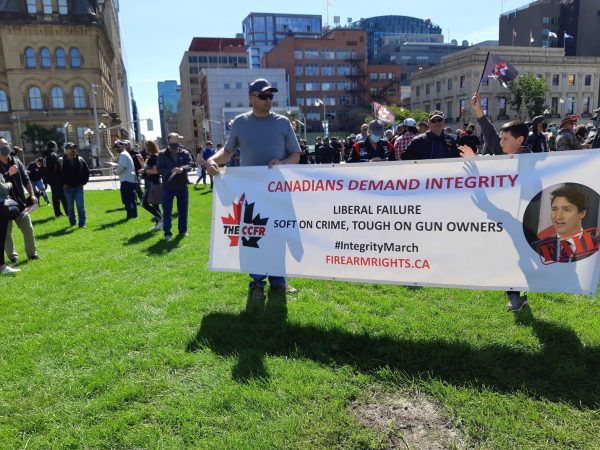 On September 12, as many as 5,000 Canadians from across the country joined the Canadian Coalition for Firearms Rights for their Integrity March on Parliament Hill – a significant number at any time but especially during a pandemic.
There are also several legal actions challenging the May 1 Order in Council that banned 1,500 firearms … and counting. Most of these will likely not be heard until late in 2021 and will drag through the courts for months if not years. For these reasons, the applicants being represented by Arkadi Bouchelev have decided to apply  to the Federal Court for an interim injunction that would allow owners of firearms affected by the Order in Council to continue enjoying their private property while this case is being litigated. As it stands now, the owners of such firearms may only keep them at home under lock and key and cannot use them for hunting and target shooting. The applicants feel that this is neither reasonable nor fair. The hearing date for the injunction has been fixed for January 18, 2021. See more at https://www.gofundme.com/f/gun-ban-court-challenge-judicial-review/.
All these actions and activities show that there is considerable opposition to the May 1 gun ban. But as long as the Trudeau government is in power, the Order in Council will not be reversed. For that, we need political will and a change of government. The Conservative Party of Canada recently elected Erin O'Toole as their leader. Will he be the one to throw the Liberals out and reverse the Order in Council? The CCFR thinks he could possibly be. See https://firearmrights.ca/en/otoole-win-gun-owners/.
Time will tell.