The Essa Canadian National Draft Horse Exhibition by Elizabeth Marshall
Hey folks – I finally took a day off and this past weekend, August 31, I went to the Canadian National Draft Horse Exhibition, in Essa Ontario. And what a show it was!
Two or three years ago I had attended, as well, and there's nothing like these gentle giants showing their stuff – and there's nothing like the work and care that goes into showing these magnificent animals.
These teams came from all over and to name a few places they came from:
Haley, Metcalfe, New Liskeard, Sunderland, Illinois, Listowel, Schomberg, Embro, etc. One of the judges came from Indiana.
This show is not only to show their stuff but it is for points. The six horse hitch was a "classic." To someone not from the horse world I didn't know a classic from any other part of the show, but suffice it to say these were some of the best horses in North America being shown, including Ontario's representative team, (English Family from Sunderland) for the Calgary Stampede.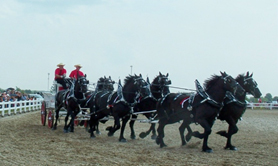 (Bourbonnais Family, Metcalfe On).
This wasn't just for the big kids, there was also the junior showman and it never ceases to amaze me how these very large animals seem to know they have precious little ones attached to the other end of the lead rope. The care these horses take when moving or stepping is quite something to see, and one knows that it would only take one of these animals to weave when it should have bopped and a little one would have been in danger. Sure there are adults always very close by, but it really is quite something to see. But then don't underestimate these little ones – they've been around these animals all their lives, so I think they have a pretty good idea how to work with these horses.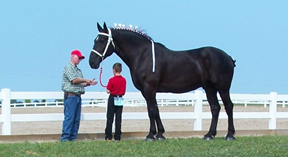 As for the six horse classes, there were 11 hitches in this class. This means there were 66 horses in the field at one time. The organizers had split them up for the trot and show of walking, reversing, trotting, backing up, etc., but after the first bunch had shown their stuff, the second bunch did theirs and then they all came into the arena at the same time. What a spectacle it was!
The winner of this class was the English Family Belgians from Sunderland, Ontario – the same team that represented Ontario in Calgary. Sorry no photo my camera died.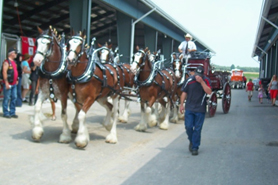 Then there is also the amount of time, money, and effort put into this. Harness approx. 30 grand, then there's the wagon – approx. 10 – 30 grand, tractor trailer for transport to the shows – 80 to 100 grand, add onto the top of that – food, vet bills, feed for the horses, accommodation, black-smiths, etc., etc., etc., and this is a pretty pricey venture.
For us, the spectator, though, it's just simply one of the best shows one can go to.
Maybe next year this will be better advertised for what it is – One of the Greatest Draft Horse Shows going, and maybe next year our elected officials will promote this event because they seem to be able to blast out emails looking for donations, but they seem a little shy on blasting out emails promoting events which are important to the people.
Hope to see you all next year at
The Essa Canadian National Draft Horse Exhibition!