Ontario Landowners Association Public Meeting and 2016 AGM
Event Date: October 22, 2016 at 12:30 pm Event Location: Admiral Inn, 1754 Highway 7, Lindsay, Ontario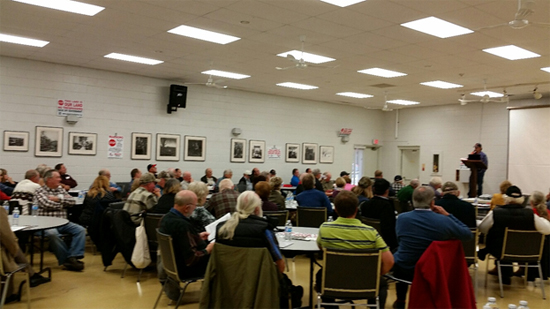 Registration at 12:30 PM
Meeting starts at 1:15 PM
Dinner at 5:30 PM
Meeting only: $15 at the door
Dinner (meeting included): $35 per person
(Caesar salad, rolls, chicken breast, vegetables, carrot cake, tea and coffee
Payment in advance for the dinner would be greatly appreciated.)

RSVP to Shirley Dolan at 613-623-0675
or sjdolan@xplornet.com required by Friday, October 7
Send cheques payable to Ontario Landowners Association to:
Ontario Landowners Association (OLA)
P.O. Box 5223
Huntsville, ON
P1H 2K6
Speakers:
Tom Black, OLA President
Tom will introduce the 2016/2017 OLA Executive and the 2016 OLA Award recipients. He will also provide an update on OLA activities.


xxx

Len Harris, former Australian Senator and Property Rights Activist.
What you think it is! Isn't!  This will be a live, on-line presentation. If you have a wireless device (smart phone, laptop, or tablet, etc.) bring it along to access the information being presented. If not, no worries: it will all be available on the screen for all to see.


xxx

Jeff Bogaerts, OLA Vice-President and President of Lanark Landowners Association
As a Landowner and as a paralegal specializing in property rights cases, Jeff has acquired a wealth of knowledge on how to protect yourself and your property when an official comes knocking on your door. Jeff's presentation "Just Shut up!" is not to be missed.


xxx

Elizabeth (Liz) Marshall, OLA Director of Research and President, All Rights Research Ltd.
Liz is a tireless defender of property rights. Her reports and her book "Property Rights 101" speak to the depth and breadth of her research and understanding of the legislation and how it is being misused and misinterpreted. Liz will comment on the redundancy of Conservation Authorities in Ontario, Bill 100 (The Trails Act), and the state of politics in Ontario.


xxx

Special Guest Speaker John Robson, documentary film-maker, a columnist with the National Post, commentator-at-large
"Regular folks don't have the right, in the normal course of events, to take the law into their own hands and enforce their own justice. But regular folks do have the right to defend themselves and their families, fellows and property, against threats." So says Robson's "A Right to Arms" website on his new documentary about the right to bear arms in Ontario. Come and hear why "your right to bear arms is as Canadian as maple syrup".


xxx
Staying over? A block of rooms at the Admiral Inn http://www.admiralinn.ca has been set aside until September 22. You have a choice of a room with one king and a pull out couch OR a room with two queens for $99.99 per night.
Call direct at 1-705-328-1743 or toll free at 1-866-328-1743 to book your room.